Interview: Alberto Maggini on New Installation with Performance 'Diva's Boudoir'
We caught up with Alberto Maggini to talk about Diva's Boudoir an underground installation of paintings, ceramics and found materials coming to Deptford Does Art. Visitors are invited to descend into Maggini's seductive realm where fallacy and reality flirt, merge and clash.
Set within a flamboyant dressing room, Diva's Boudoir is a site of liberating transformation: a raucous exploration of queer ecologies, mythologies and native identities. The opening will also be joined by a performance by Alberto Maggini and Soyeon Kim, a dance inspired by birds mating ritual.
Tell us about your new exhibition Diva's Boudoir. What should visitors expect?
In Diva's Boudoir, I will present an installation consisting of paintings, ceramics and found materials to create an environment where fallacy and reality flirt, merge and clash. Diva's Boudoir sets the stage for uninterrupted transformation and liberation from the claustrophobic claws of patriarchal society.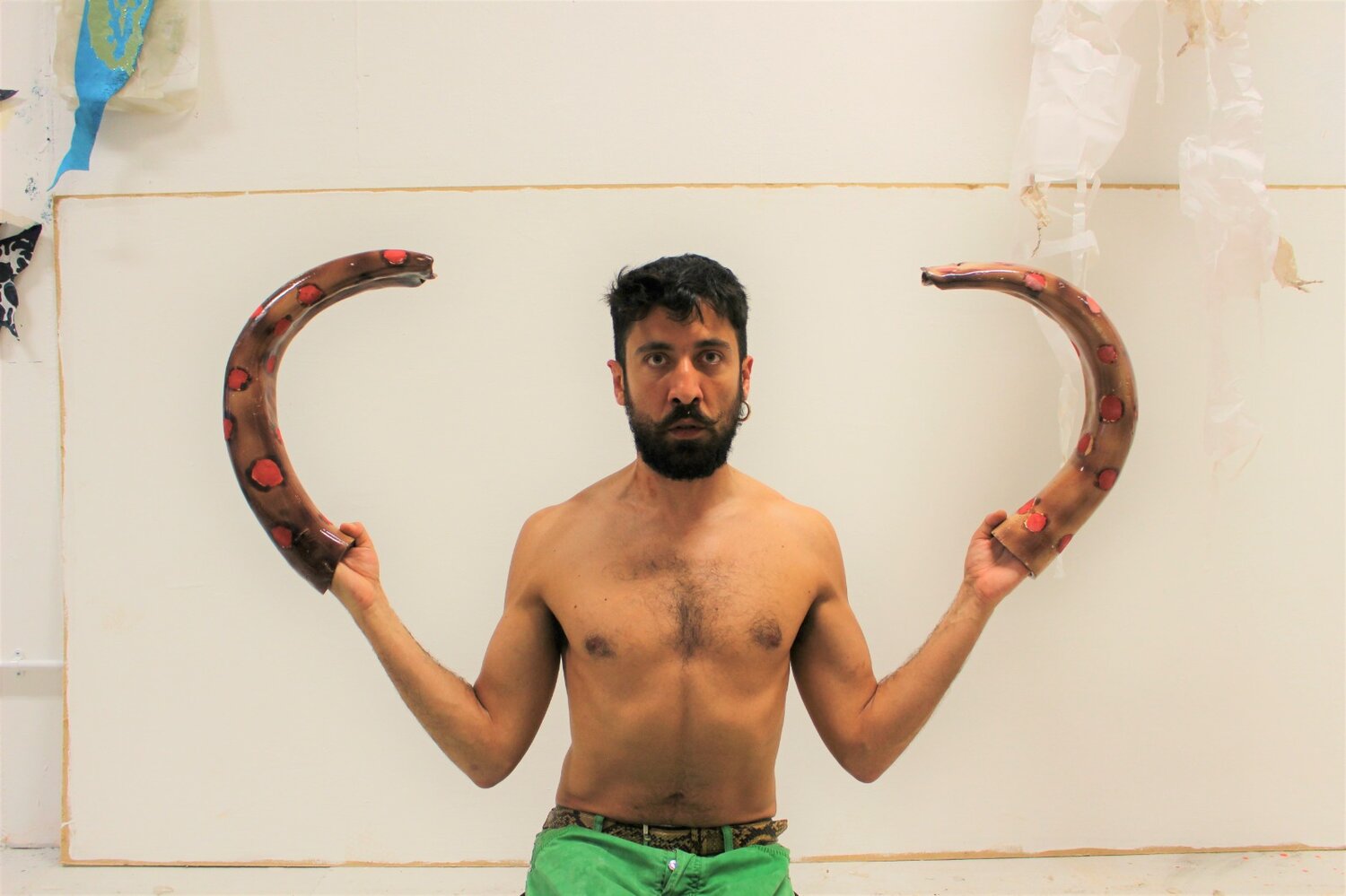 In this exhibition, I critically investigate identity through a queer lens and draw inspiration from my background in biology and botany to explore the healing power of metamorphosis and to scramble notions of gender, sexuality and the human form. Visitors can expect a bold, bright and playful installation and an immersive performance on the opening evening. 
How did you come to make the work you do?
My work is informed by my studies in biology and botany. My practice is an intersection of my scientific background and my ongoing exploration into queer ecology, mythology and native identities. I like to take a hands-on approach to my work and create wearable sculptures using my own body parts, such as my arms, torso and hands, and I typically use biotic materials such as leaves and feathers in a way to bring us closer to our native identity. I also use colourful and playful materials like sequins, fake eyelashes and wigs to accentuate performed identities.
My works are usually displayed as free-standing sculptures, but it's by allowing others to wear these sculptures in my immersive performances that I activate their sense of artifice and stylisation in a way to embrace the spirit of extravagance and dispute normative identities.
Who or what inspires you to make your creative work?
I am inspired by nature and natural phenomena like birdmating rituals, queer ecology, Greco-Roman mythology, Susan Sontag's writings on 'Camp,' divas (e.g. Yma Sumac) and their powerful performances, Marina Abramovic's "Rhythm 0," Benvenuto Cellini's Salt Cellar sculpture, and José Esteban Muñoz's writings on 'disidentification'.
What advice would you give to up and coming artists working in London?
My main piece of advice for artists working in London is to be curious and inquisitive and to explore those different playful and curious sides that we all have. I think it is really exciting to look into the things that we are drawn to most and to allow our imagination to flow ceaselessly. I would also say that London is such a vibrant city with a very rich history and a lot of interesting things to see. I would recommend artists to immerse themselves into the city's culture and to attend as many exhibitions and events as possible to see what's out there, learn new things and meet people.
What are your favourite London haunts? (galleries, places to eat, places to relax)
Some of my favourite London haunts include Camden Art Centre, Yamamoto Keiko Rochaix Gallery, Nicoletti Contemporary, and Kew Gardens.
I am Joint Editor at To Do List. I like free, cheap & offbeat London, especially: cabaret, art, theatre, pop-ups, eating out, quirky films, museums, day trips, social enterprise & much more.