10 Hot New Acts at Musical Comedy Awards
We caught up with Musical Comedy Awards producer legend Ed Chappel to talk through the acts who will be live on the biggest night of the year for tuneful comedians.
Having been pushed back a few times due to COVID-19, our 10 finalists from the 2020 competition will finally have the chance to compete for the prestigious musical comedy crown on 12 June!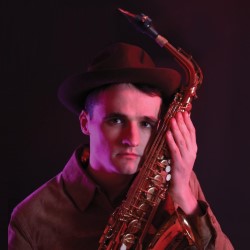 Alongside a small and socially-distanced live audience, NextUp Comedy aka the Netflix of live comedy will be live at the Bloomsbury filming the final from multiple angles. You'll get the chance to enjoy the 12th MCA final from the comfort of your own home and also vote online for their Audience Favourite.
The headliner is Archie Henderson (pictured right) who Ed calls 'Up there with the most original and creative musical comedians of the moment, winner of alternative Eurovision, Chortle Legend of Lockdown and Crooners Against Corona.'
Here's who to look out for…
Shelf
"Shelf are a musical comedy double act. Sort of. One of them is musically talented and the other is tone deaf, so expect a musical single act, and guest. Everything from EDM to acoustic jams."
Stepdads
What to look out for: "Eccentric knitwear and a Christmas song that was irrelevant at the time and hasn't aged well."
Two Mouthed Men
"Two Men. Two mics. Too many sick beats."
Tom Taylor
"Look out for the songs, they're all very short so can be easy to miss."
Canadians in Space
"Soap Pop trio dishing out an unsavoury smorgasbord…for your ears"
Alex MacKeith
"A disarming persona whose songs conjure a darkly surreal world."
Chris Rio
"The serendipitous fusion of a ukulele and a counselling session"
Amy Webber
"Next we have Amy Webber who says she can sing, dance and act and can't understand why she's not famous"
Jamie Finn
"Songs about his deeply awkward love life."
Bennet Kavanagh
A mutated keyboard, a major seventh chord and the possibility of monks…
PLUS!
Best Friends Cabaret
"Hilarious duo who have been selected as the Best Newcomers for the 2020 competition."
I am Joint Editor at To Do List. I like free, cheap & offbeat London, especially: cabaret, art, theatre, pop-ups, eating out, quirky films, museums, day trips, social enterprise & much more.